We're a sociable lot and so meeting up in some way or another is part of the point of doing all of this. Here are some of the ways we do that with links to where to get more information.
If you want to see all upcoming events at a glance, take a look at the calendar.
Map (for Workshops and Socials)
The postcode for 'Innovation Centre 1' (side of the building just says IC) is ST5 5NB.
The postcode for 'The KPA Clubhouse' is ST5 5DY.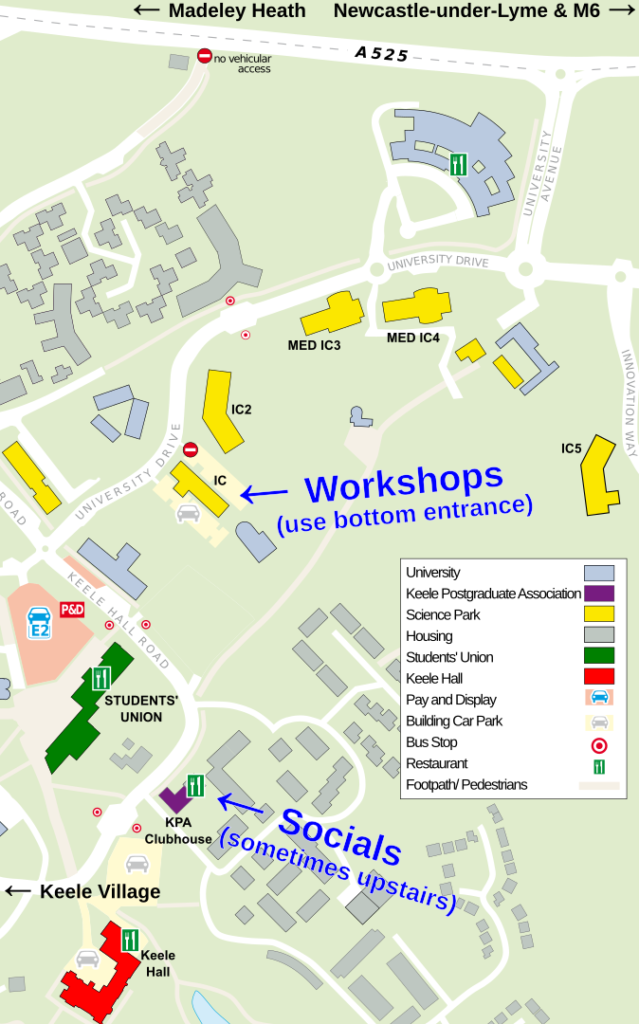 Workshops
For past and upcoming Workshop events please see the Calendar.
We use of a room full of 30 computers. phones, printers, a whiteboard and large TV. It normally serves as a 'Workplace Recovery Suite' where customers of Internet Central use it when their usual place of work has suffered some kind of cataclysmic issue.
Our fantastic benefactors at Internet Central allow Function Office to use the room for projects like StaffsLUG. If you have any other uses in mind then just contact us by e-mail to discuss if it is possible.
Our "Workshop" meetings happen in this room on Tuesdays (not every Tuesday, see the calendar) and is open from 6pm onwards but things requiring group participation don't start until 7pm (to allow people time to travel in from work or get something to eat). This room is handy for anything where a computer is of use, including…
Presentations
Hands on help (bring in your own device if you like)
Gaming
Generally showing off what we can do on a computer 🙂
… and much more
Here is the address…
Internet Central
Innovation Centre 1
Keele Science & Innovation Park
Staffordshire
ST5 5NB
If coming by car then you'll notice two entrances to the building and you'll want the lower one (which is the back of the building). On this side of the building alone are 30+ spaces. In the evenings they'll almost all be available and you can park for free without fearing the parking enforcement signs!
In the unlikely event you're popping by during the day, you're best finding a space marked 'Internet Central' (if one is free) or use Keele University's Pay and Display parking (closest is by the Students' Union)…
https://www.keele.ac.uk/connect/howtofindus/parking/payanddisplay/
If coming over by bus from the direction of Stoke-on-Trent or Newcastle-under-Lyme then you'll likely want the number 25 operated by First or if you're coming from Cheshire you may want the 85 operated by D&G.
Historically we used to run workshops from the Navaho offices in Stafford, this was mostly just the space to help with people bringing devices in and for presentations.
Socials
For past and upcoming Social events please see the Calendar.
Want to just sit back and relax with a pint and just chat without a screen blaring away at you? Well this is the whole point of a "Social" meeting.
We use KPA Clubhouse which is at the Keele Postgraduate Association that is on Keele campus itself. It's essentially a pub inside but has a nice atmosphere and a function room we can use for free upstairs.
Historically we used to have socials on some Mondays at 'The Yard' and then 'The Picture House' pubs (both Wetherspoons) in Stafford. Bizarrely very few socials actually took place in North Staffordshire which is where the bulk of the population is for the area.
Trips
For past and upcoming Trips please see the Calendar.
Excursions to places not ran by StaffsLUG itself. These can include expos, museums, unconferences, other LUGs, etc…
The tradition of going on organised trips will continue and we've got a dedicated separate mailing list for discussing and organising them. We'd love to hear your thoughts.